HERBALIFE
Pengurusan Berat Badan

Jika anda pernah mencuba untuk menghilangkan berat badan sebelum ini dan gagal, jangan berputus asa. Program ShapeWorks™ menggabungkan Nutrisi Selular dan kuasa protein supaya anda boleh mengawal rasa lapar anda, mengekalkan metabolisme yang sihat dan rasa bertenaga sambil anda menghilangkan kilo yang tidak dikehendaki.
Kenapa pengurusan berat badan anda sukar sebelum ini?

Ini mungkin kerana anda belum menemui program pengurusan berat badan yang boleh menolong anda membuang kilo dan mengurangkan sentimeter, sambil kekal sihat pada masa yang sama. Tetapi ShapeWorks dari HERBALIFE boleh melakukannya untuk anda.

Ia adalah program seimbang yang meyihatkan dan boleh diperibadikan mengikut komposisi dan bentuk badann anda yang unik. Ia membantu mengawal rasa lapar dan membuat anda sentiasa berasa sihat dan segar.
Herbalife adalah pemimpin dalam membangunkan produk pengurusan berat badan terkini, pemakanan dan juga penjagaan personal. Teknologi terkini digunakan dalam mencipta formula untuk setiap keperluan - sama ada berkaitan dengan jantina, umur, atau badan badan yang khusus, Produk-produk ini diasaskan dari kemajuan sains makanan, suplimentasi mikronutrien dan sains herbal. Ia dihasilkan untuk meningkatkan kualiti hidup anda dan penyediaan kepada kesihatan masa hadapan.

Dengan menyatukan kebaikan semulajadi dan sains terkini, Herbalife adalah yang paling termaju dalam memaksimumkan kesihatan diri.
Herbalife adalah antara produk digunakan untuk tujuan membantu menguruskan berat badan ialah seperti yang diterangkan di bawah ini:

Makanan Gantian (Meal Replacement)

Rawatan dari jenis ini mengandungi makanan yang perlu anda ambil mengikut peraturannya, dan berhenti daripada mengambil makanan-makanan yang biasa diambil seperti nasi untuk makan tengahari, dsb. Dalam kata lain, anda hanya boleh mengambil produk ini sahaja sepanjang tempoh rawatan. Bergantung kepada jenis produk yang anda beli, ada yang menyarankan anda mengambilnya dua kali sehari dan ada yang tiga kali sehari. Ada juga yang membenarkan anda meminum susu, dan ada juga yang membenarkan anda mengambil sedikit makanan sekiranya anda rasa betul-betul lapar. Produk-produk jenis ini mengandungi low calory diet (makanan berkalori rendah) atau very low calory diet (makanan berkalori sangat rendah).

Sebagaimana yang dinyatakan bahawa pemakanan yang baik dan senaman yang kerap adalah penting untuk membantu anda mengurangkan berat anda secara berkesan dan untuk jangka masa yang lama. Penurunan berat badan antara 5-10% adalah memadai untuk mengurangkan risiko-risiko berkaitan dengan kegemukan.

Rawatan melalui pemakanan gantian ini adalah antara cara yang efektif untuk mengurangkan berat badan dengan cepat. Bagaimanapun adalah penting supaya mereka yang mengamalkannya mempunyai daya motivasi yang tinggi. Ini kerana sepanjang rawatan ini anda akan rasa ketagih untuk makan makanan yang tidak sepatutnya anda ambil. Banyak antara mereka ini merasa tertekan dan sukar untuk melawan nafsu makan mereka. Akhirnya, bila mereka mengambil makanan yang tidak dibenarkan, terutamanya makanan berlemak, badan mereka mendapati bahawa lemak ini menjadi lebih sukar untuk dibuang. Berat badan akan naik semula (kesan yo-yo). Ini adalah akibat dari penurunan kadar metabolisma badan mereka semasa mereka menjalani rawatan melalui pemakanan gantian ini.

Selalunya produk jenis ini juga mempunyai bahan yang membantu anda mengurangkan rasa ingin makan dengan mencampurkan bahan seperti serat di dalamnya. Oleh itu nafsu makan anda sedikit sebanyak dapat dikawal.

Produk-produk ini menurunkan berat badan dengan menambah metabolisma. Ia tidak menghakis otot (protin) dari badan anda. Oleh itu tone badan anda dapat dikekalkan.
~~~~~~~~~~~~~~~~~~~~~~~~~~~~~~~~~~~~~~~~~~~~~~~~~~~~~~~~~~~
ShapeWorks Herbalife
---
START NOW PACK :-
Harga Bukan Ahli
Formula 1 -Nutritional Shake Mix (550g) - 145.52
Formula 3 -Personalised Protein Powder - 102.72
Tea Mix - Lemon & Hibiscus (50g) - 113.42
JUMLAH ------- RM 361.66

Harga Ahli
Formula 1 -Nutritional Shake Mix (550g) -111.52
Formula 3 -Personalised Protein Powder -78.72
Tea Mix - Lemon & Hibiscus (50g) - 86.92
JUMLAH ----------- RM 277.16

daftar ahli cuma RM88 sahaja....
Formula 1 Nutritional Shake Mix

Menyediakan vitamin dan nutrien penting

Shake pengganti sajian lanjutan ini padat dengan protein dan nutrien penting.

# Mengandungi 19 vitamin dan mineral.
# 9 gram protein soya dan 18 gram bila dicampurkan dengan susu atau susu soya setiap hidangan campur serat untuk menolong anda berasa kenyang dan puas.
# Boleh membantu anda menghilangkan, menambahkan atau mengekalkan berat badan.*
# Mempunyai lima perisa.

*Kenyataan-kenyataan ini belum dinilai oleh Pentadbiran Makanan dan Ubat AS. Produk ini tidak bermaksud mendiagnos, merawat, mengubati atau mencegah sebarang penyakit.

French Vanilla 550 gm
Dutch Chocolate 550 gm
Strawberry 550 gm
Tropical Fruit† 550 gm
Cappuccino 550 gm

Formula 3 Blended Soy & Whey Protein Powder

Suplemen Protein menolong menghalang rasa lapar.

Suplemen protein tanpa lemak yang mudah dibawa ke mana-mana untuk mengawal rasa lapar dan pengurusan berat badan yang menyihatkan.

# Campuran soya dan protein proprietari
# Mudah dibancuhkan dalam shake, sup dan sos.
# Menolong membina dan mengekalkan jisim tubuh tanpa lemak.

ShapeWorks™ Tea Mix

Minuman herba yang menyegarkan dan untuk pengurusan berat badan

Campuran teh segera kalori rendah yang enak ini membantu anda kekal bertenaga dan segar sambil anda menguruskan berat badan anda.


# Mengandungi antioksida dan teh hijau termogenik
# Boleh dinikmati panas atau sejuk

---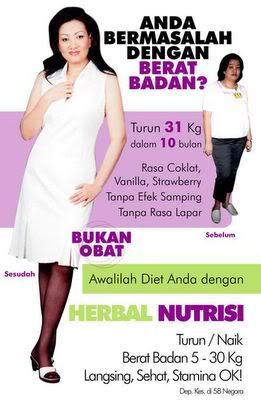 sebelum dan selepas
sebelum dan selepas
``````````````````````````````````````````````````````````````````````````````````````
"Herbalife's made my life more exciting!"
During my high school years, I weighed more than 90 kilos. It was after my graduation more than 20 years ago, that my weight went up to 120 kilos, due to irregular working hours in the services industry and unhealthy eating habits. I even spent an alarming TWD$4 million on weight-loss programmes, but along with it came health problems.
It was from a stranger's introduction that I began to use Herbalife's products, and things began to change! I lost 18 kilos in three months, 35 kilos in six months, and a total of 50 kilos within the first year! And I felt better than I have for years, thanks to Herbalife.
Total weight lost: 50 kilos!
Chen Chiu Shen before at 120 kilos
Makes your dreams come true...
People called me "fatty" because of my 5 feet 3 inches in height and 82 kilos in weight. Actually, I had already given up my idea of losing weight after repeated failure for more than 10 years. However, my brother introduced Herbalife to me and encouraged me to use the products. Hence, I just gave them a try. Unbelievably, after taking Herbalife's products for 5 months, my weight dropped down from 82 to 59 kilos. Besides, lost 6 inches, 5 inches and 3 inches off my hips, waist and legs respectively. Finally, Herbalife helped me to get rid of the name of "fatty".
Lost: 23 kilos!


fenny before n after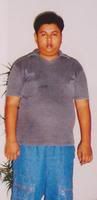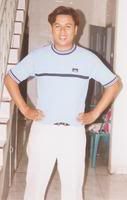 vic before n after
~~~~~~~~~~~~~~~~~~~~~~~~~~~~~~~~~~~~~~~~~~~~~~~~~~~
cara pembayaran :-
bank in ke acc. BCB - 16010006635525
atau maybank - 166010085493
Wan Kamar Haliza bt. Wan Sulaiman
Untuk keterangan lanjut mengenai produk dan untuk dapatkan harga diskaun sila hubungi Wan Kamar Haliza @ 019-2776889 or email wkh6869@yahoo.com / YM wkh6869
Posted at 08:55 am by wkh401
Permalink